Darwin Attractions
There are many activities that you can do while you are holidaying in Darwin, from seeing the sights to tasting the delights, to getting up close and personal with a variety of flora and fauna and experience some of Darwin's famous attractions. Day or night you will find so much to see and do, and have a holiday like never before.
Darwin, located in the Top End of the Northern Territory, is a city that is buzzing with vibe that puts a hop a in your step. Walk the streets and smell the food, dine out or sit down to a great breakfast to start the day right. There are cafes to have lunch at, harbour side restaurants to sample some quality foods and many other fine dining establishments that not only boast wonderful taste from around the world but some of the most breathtaking views you will ever see. Try a local mud crab or a great feed of barramundi or have a taste of some crocodile jerky…. There are many dining experiences here in Darwin! From dining to shopping, to the Mindil Beach Sunset Markets where you will find many quirky things, interesting finds and so much more. Take a beach walk, do some fish feeding with the kids or enjoy a sailing trip around the nearby Tiwi Island for the day. You might like to do some barramundi fishing or take a tour of the Crocodylus Park or Crocosauraus Cove.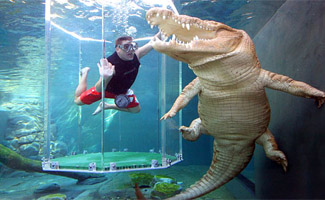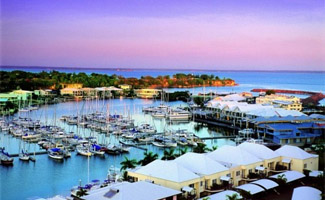 You can view a recent released movie in the open air cinema one night or take a sunset cruise that you will never forget! Wander through the beautiful Botanical Gardens in the morning and finish the day off with a browse through the newly built Parliament House or the Museum and Art Gallery of the Northern Territory. Darwin also boasts a large Harbour Precinct where you can watch ships sail in and out while you dine or lounge in one of the bars and you might even like to visit the Australian Pearling Exhibition down by the wharf while you are here. Take a sightseeing tour through the city to see the grand old buildings and historical sites, see the beaches, take a coastal walk or join a cycling tour for the day.
You can play a round of golf, take the kids to mini golf or wander around Casuarina Square which is a large shopping centre offering over 180 speciality stores. There are V8 supercars to watch during the dry season, carnival and horse racing days to get dressed up for if you like to have a punt and some of the best AFL games to watch at the local stadium. With water activities, lots of fun to be had with sports and the best family fun and entertainment you could ask for, Darwin really does boast a huge array of activities that all ages can involved in. There are trips to Kakadu National Park, Litchfield National Park and Katherine Gorge, cruises around the harbour and plenty of action packed adventure, from jumping croc tours to estuary fishing at its very best.
You can do a scenic flight, go rock climbing, take a hang glider over the region or go hot air ballooning. See nesting turtles, do a romantic cruise with your loved one or perhaps set out on an overnight tour where you can camp out under the stars. Darwin itself has so much to see and do, and together with some of the most famous Australian icons right on its doorstep, you will quickly discover why so many people come here every year.