Alice Springs Holidays & Travel Information
Alice Springs in the Northern Territory, is surrounded by the MacDonnell Ranges and is a great base from which to explore its surrounding natural wonders. The town itself challenges most visitors' expectations, combining a strong sense of outback history with all the convenience of modern facilities.
The original site of Alice was actually at the Alice Springs Telegraph Station, four kilometers north of the city center. Despite its beginning as a remote outpost, present-day Alice is well-appointed and culturally rich thanks to the influence of visitors from all over the world. It has excellent restaurants, energetic nightlife and hosts a calendar of quirky and exciting events all year round.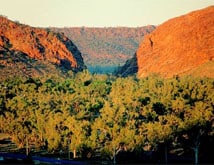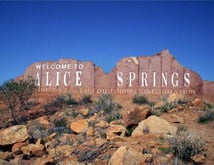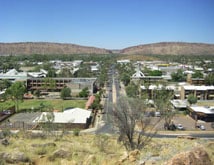 The Arrernte people are the traditional owners of the area. The Cultural Precinct, a short drive or walk from the city center, is home to several of its sacred sites as well as many interesting museums and galleries.
ANZAC Hill offers an excellent view of Alice Springs and is subsequently a good starting point for any town tour. Descend the hill and stroll through the Todd Mall, where you can shop for everything you need. Then there's the Alice Springs events calendar offering a real taste of the outback sense of humor. Marvel at some of Australia's finest headwear at the annual Beanie Festival or enjoy the ridiculous Henley-on-Todd Regatta set on the almost permanently dry river bed of the Todd River.
Like the best Aussie country towns, the local holiday accommodation and the people of Alice make you quickly feel welcome. With a population of over 27,000, the town offers capital-city facilities, without losing touch with its pioneering heritage and Outback friendliness.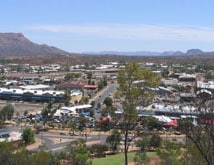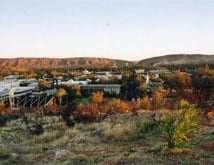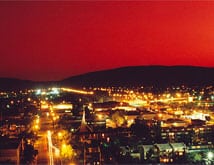 Learn more about the local Indigenous Australians, the Arrernte tribe, whose traditional lands include the area in and around Alice Springs and the MacDonnell Ranges. Join one of the numerous Aboriginal cultural tours around town, or gain a fascinating insight into their life and work at places like the Aboriginal Art and Culture Centre. It also has a wide array of Indigenous arts and crafts shops offering authentic artwork at a range of prices and values that suit everyone's budget.
This Alice Springs travel guide will help you to explore places like the Alice Springs Telegraph Station to discover the pioneering history that was established. The Royal Flying Doctor Service and the Alice Springs School of the Air also give a wonderful insight into the ingenuity used to survive the isolation and remoteness of the Outback throughout history and the present day. Both attractions also bring the reality of distances covered in the Outback to life.