Kakadu National Park – Australia – Travel – Holidays – Tourism – Vacations
Kakadu National Park is one of the icons on the list of Australian tourism destinations. It is located in the north of the Northern Territory about three hours drive from Darwin. Kakadu is internationally known for its magnificent scenery, unique wildlife, Aboriginal culture and its ancient Aboriginal rock art. Central Kakadu is a Commonwealth reserve covering almost 20,000 square kilometers and includes the traditional lands of several Aboriginal clan groups. The park is managed jointly by the Australian Governments Director of National Parks and its traditional Aboriginal owners.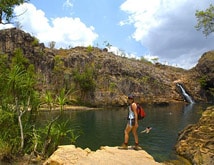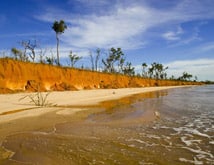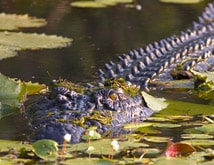 The Bowali visitors center is located about five kilometers from Jabiru and provides a great travel guide for Kakadu. The center contains a wealth of information about Kakadu including videos, library and a display. If driving yourself the visitor center is a great starting point with attractions like Yellow Water and Nourlangie Rock, which is famous for its rock art, are both located quiet close by. There are many ways to visit Kakadu National Park. Many people take a day tour from Darwin and we have a host of these available in this website. Extended tourist accommodated tours are also available. Another option is to hire a vehicle or campervan and do it in your own time. Weather conditions can play a part especially during the wet season and access to some parts of the park can be restricted. Areas like Jim Jim Falls require four wheel drive vehicles as the road is unmade and can be subject to flooding. Another fantastic way to see Kakadu is to take a scenic flight as the park is absolutely spectacular from the air.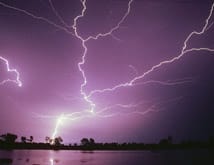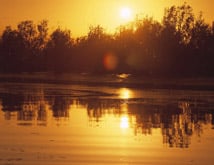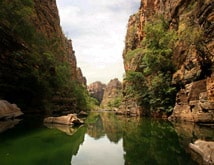 If you are from interstate or from overseas, the best way to access Kakadu is from Darwin. There is an international and domestic airport with regular flights from all destinations. Darwin has a wealth of modern accommodation to choose from however be aware that the city is often booked out with popular local events like the Darwin Cup or the V8 supercar races so it is wise to book as far in advance as you can. If you need any assistance to book into the region for accommodation, tours or vehicle rentals don't hesitate to call one of our consultants who will be delighted to assist you in planning and booking your Kakadu National Park holiday.