Kings Canyon Resort

Property Information:
Kings Canyon Resorts is located in a loop off the main highway running between Ayers Rock and Alice Springs. The sensitively designed resorts is just seven kilometers from Watarrka National Park, the home of the magical sandstone formation of Kings Canyon.
Due to commitments to best environmental practices, the resort has been built to blend harmoniously with the surroundings. That is not to say the accommodation is basic! Kings Canyon Resorts offers a wide range from the campground that enjoys the outdoor stillness of the Red Centre to deluxe spa rooms – offering understated opulence rather unexpected in such a remote location.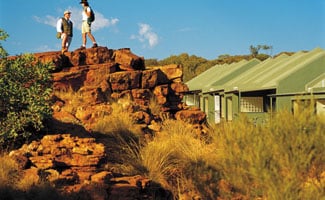 RESORT FEATURES:
Outdoor BBQ
Mini-supermarket
Souvenir shop
Petrol station
Laundry
Two swimming pools
Tennis court
Sunset viewing platform
Conference facilities for up to 30
It is the perfect oasis from which to explore the wonders of Kings Canyon including the amazing rock formation called the Lost City and the Garden of Eden an oasis of an entirely different kind at the foot of the Canyon. The flora of Kings Canyon offers a clear indication that the climate of this whole area was once vastly different.
DINING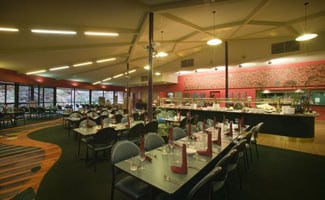 Desert Oaks Bistro
The Desert Oaks Bistro offers a selection of light meals, beverages, and snacks in a relaxed outback setting. Breakfasts and lunches are perfect for holiday-makers on the go, where you can grab a quick meal between sightseeing activities. Evenings are more laidback, with a delicious a la carte menu available featuring steak, chicken, and seafood.
Outback BBQ and Grill
For a true Australian Outback experience offering a selection of contemporary Australian BBQ cuisine. Enjoy a-la-carte BBQ-style fare, fresh vegetables and salads, and a wide selection of wines, spirits, ales and soft drinks. Open for dinner from 6.00 pm to 9.00 pm. Revel in the friendly atmosphere, mixing with other guests under a solid roof with open sides – just as if you're on a traditional outback verandah. This casual bar and grill also provide live entertainment during peak season (seasonal – generally June to November). Seasonal closure applies from 1 December to 31 March.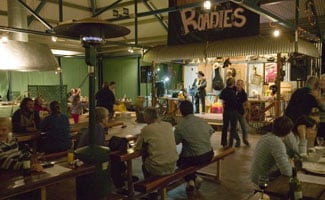 Thirsty Dingo Bar
As the sun sets over the desert landscape, enjoy a drink from the bar before dinner. Open from 2.00 pm daily until late. Pizzas are served from 6.00 pm – 8.00 pm. This is the perfect way to unwind after a day of exploring the wonders of Watarrka National Park.
General Store
If you are catering for yourself, pick up supplies at our mini-supermarket, which has a good range of food and groceries on offer. Open daily from 7.00 am to 7.00 pm.



Accommodation Information: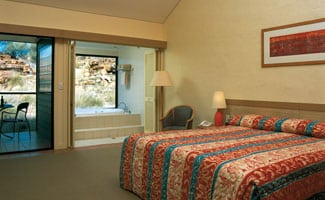 DELUXE SPA ROOM
Set in a prime location at the Resort and nestled in amongst the scenery, the Spa rooms offer guests deluxe accommodation at Kings Canyon. An oversized spa bath with a glass window providing uninterrupted range of views is one of the special inclusions offered. Each Deluxe Spa Room also features a private balcony offering a magnificent outlook onto a rocky escarpment that is lit at night.
STANDARD ROOM
Their comfortable Standard Rooms are spacious and contain a separate ensuite with a shower. Rooms feature either two double beds or one queen bed. Interconnecting rooms are available.
Deluxe & Standard Room Features: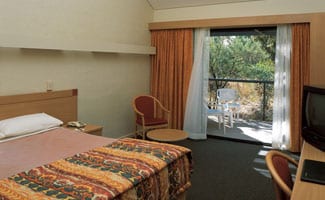 Hairdryer
Tea/coffee facilities
Extra Blankets
Direct-dial telephone
Refrigerator
Iron/ironing board
Writing desk
Clock radio
Ensuite
Insect Screens
Air-conditioning
Television
In-house Movies (charge applies)
Internet Access
BUDGET LODGE ROOM
The Resort features 36 Budget Lodge rooms with shared bathroom facilities. Rooms are available in quad, twin, or double configurations. Quad rooms contain a double bed and 3 single beds (Max 4 guests per Quad Room). Double rooms contain a double bed, and twin rooms contain 2 single beds.
Lodge Room Features:
Air Conditioning
Blankets
Refrigerator

Linen
Tea & Coffee Making Facilities
TV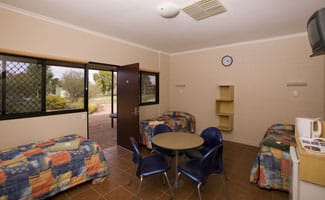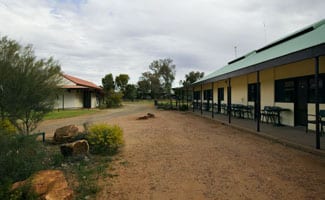 ROOM CONFIGURATIONS:
Room Type
Bedding Configuration
Room Capacity
using existing bedding
using rollaway bed
Deluxe Spa Room
1 King, 1 double sofa bed
4
n/a
Deluxe Spa Room
2 Queen beds
4
n/a
Standard Room with Spa
1 King, 1 double sofa bed
4
n/a
Standard Room
1 Queen bed
2
3
Standard Room
2 Double beds
4
n/a
Standard Room
1 Queen bed (wheelchair access)
2
3
Budget Room*
1 double bed
2
n/a
Budget Room*
2 single beds
2
n/a
Mixed-Sex Dorm Room*
4 single beds
4
n/a
164 Rooms





Location Information:
GETTING THERE
Located mid-way between Alice Springs and Uluru (Ayers Rock), Watarrka National Park covers 71,000 hectares and is home to Kings Canyon. Kings Canyon Resort is situated just 7km from the Canyon.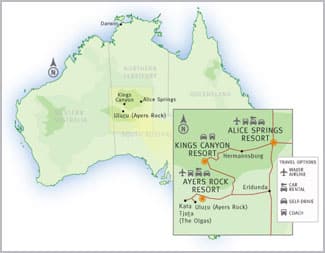 Qantas flights arrive daily at Alice Springs and Ayers Rock Airports from major cities, including Cairns, Sydney, Melbourne, and Perth.
Transfers to Kings Canyon Resort
Self Drive
There is no better way to explore Central Australia than at your own pace. As Kings Canyon lies just 3 hours from Uluru (Ayers Rock) and approx. 4 hours from Alice Springs, self-drive is a popular option. The drive passes some incredible sites including Standley Chasm, Ellery Creek, and Ormiston Gorge. The Mereenie Loop Road brings you right to the doorstep of the Resort. Please note: the Mareenie Loop Road is an unsealed road for 197km of 337km, a 4WD is required. Alternatively travel via the Stuart Highway, approx. distance from Alice Springs to Kings Canyon is 461km and 4.5 hours travelling time.
Coach Transfers
Coach transfers are available and operate services between Alice Springs, Kings Canyon, and Uluru (Ayers Rock). Travel by luxury air-conditioned coach through beautiful desert landscapes and interesting scenery. Your driver or guide will provide comprehensive commentary of your surroundings as you pass through the beautiful rugged scenery of the 'outback'.
---
EXPERIENCES & TOURS
Kings Canyon experiences cannot be replicated anywhere else. Be free to enjoy the rim walk on your own or join a guided tour to learn about the evolution of this remarkable place. Whatever you do, ensure you witness it's vastness from above, either in a helicopter or from the rim – the pinnacle of the rim walk.
TOUR OPTIONS: » Click here to view tour options
Kings Canyon Rim Walk
Under a Desert Moon
Helicopter Tours

Quad Adventures
Camel Rides