Darwin – Australia – Travel – Vacations – Holidays – Tourism
Darwin is Australia's only tropical capital city and brags a population of 80,000 with around half of the Northern Territory's population living within 40 kilometres of Darwin itself. Darwin lies on a magnificent harbour and is a very modern city that has been almost completely rebuilt after Cyclone Tracey all but wiped it from the map. The city is mostly situated right on the harbour front and most of the best places to stay are found on the Esplanade. This travel guide to Darwin can help you organise all the things that relate to your local holiday.
Like the city itself, most of the cities population is, on average, younger than the rest of Australia, It may be because of the cities relaxed lifestyle, the magnet of its attractions, the haunting majesty of the monsoonal storms, or the smell of the tropics but people who experience Darwin never forget it. The memories refuse to fade away. From Darwin, it is easy to visit many of the Northern Territory's most spectacular attractions. Day tours by coach are available to both Litchfield and Kakadu National Parks and there is a host of tours to choose from. You can do it in a day or be laid back and spend as long as you like.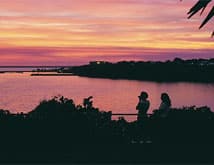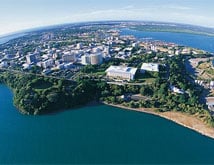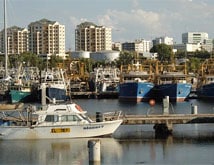 You can also fly to Ayres Rock or Alice Springs from Darwin and include some of Australia's most iconic tourist attractions in your visit. The Tiwi islands, to the north, are also available to spend either a day or an extended stay. Darwin is the hub of the Northern Territory's fishing charter industry and enthusiasts come from all over the world to try to catch a barramundi over one meter in length.
Start your holiday in Darwin. Hire a campervan or motor home for a trip around the Northern Territory or join one of the fantastic organised tours to the red center of Australia. Darwin is a cosmopolitan city and there are people from more than fifty racial backgrounds that live here. Darwin is a great base for your holiday and then let us plan the rest for you. Darwin international airport is on many major routes so it is easy to access and the rest of the Northern Territory is at your fingertips with air services and charters to even the most remote areas.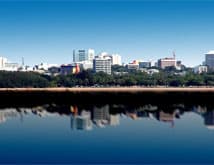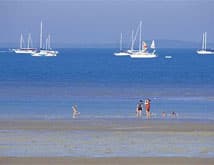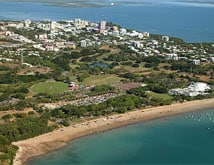 Darwin leaves a memory of tropical splendor, mystery, and limitless potential that leaves an unforgettable image in the minds of all who visit. Darwin's warm tropical climate and moderating sea breezes mean that an outdoor lifestyle can be enjoyed all year round.
Your next holiday in the Northern Territory awaits you so check in this website to find everything you need to make your holiday a reality. If you need a little help either send us an email or call one of our friendly staff who will be only too happy to assist. Our phone number from within Australia is free at 1800 815 378 and from overseas call +61 7 4128 6607.