Kakadu National Park Barramundi Fishing
Some of Australia's finest barramundi fishing can be done right here in Kakadu National Park, with avid fishermen flocking to this region to score their prize barramundi. With awesome catches to be reeled in, stunning scenery that surrounds you, and beautiful waterways, rivers, and run-offs to fish you will be in for the best barramundi fishing experience of your life when you come to Kakadu. Whether you wish to cruise around in your own boat or join one of the many great charters that leave at various times throughout the year, you will have many opportunities to get out on the water to see what you can reel in.
Many beginners and skilled fishermen choose to book with one of the reputable fishing charters of Kakadu as they not only supply you with everything from fishing, gear, lunch, snacks, and tackle but they also know all of the great locations for barramundi. You can join a day barramundi fishing charter or if you wish to stay out longer you can book an overnight or extended fishing cruise where you will fish until you drop. The waters in and around Kakadu vary from tidal rivers and coastal estuaries to waters that are jam-packed and full of barramundi.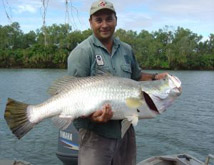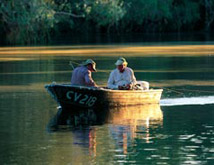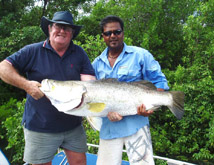 You can choose from cruises along the South Alligator River or take advantage of the famous run-off during the Wet Season in the South Alligator and East Alligator Rivers. If you are fishing without an expert guide for your barramundi fishing adventure in Kakadu and you are here during the Wet Season you have to be prepared for very strong currents that make their way downstream due to the large masses of water that fall during these times.
Along with barramundi you can expect to reel in other catches such as salmon, jewfish, and golden snapper amongst other species of fish. Along with the main fishing areas, you can do some great barra fishing in the billabongs and throughout the waters of Yellow Water but remember to reel your catch in quickly as the local crocs might really like the look of your barramundi. For people who head to the water in their own boat, a ticket must be purchased before you begin your adventure and you will also be informed of the places that you can and cannot fish within Kakadu.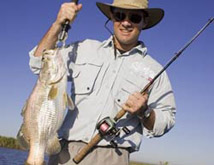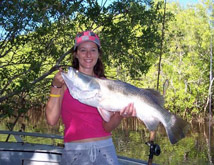 There are a number of regulations that you must abide by if you are heading out in your own vessel such as not being able to use live bait, you are not cleaning or filleting your fish within 50m of any waterway in Kakadu unless there are facilities provided and many more regulations that must be abided by.
Barramundi fishing is a great sport and everyone loves it and has a great time out on the water. Not only will you enjoy some of the best barra fishing in Australia, but along the way you can see crocodiles, birds of many kinds, flora, and fauna, and one of the most diverse ecosystems in the world. Find out more about the many different tours and cruises that you can book to get involved in some awesome barramundi fishing while you are traveling through Kakadu.