Top Fishing Spots in Northern Territory With Tips
From barramundi to mangrove jack and fingermark bream, the Northern Territory offers a diverse range of fish species that are sure to excite every angler.
If you're looking for the top fishing spots in Northern Territory (Australia), then you're in for a treat! We've compiled a list of nine fantastic places where you can cast your lines and reel in some great catches.
Shady Camp
Located around 120 km east of Darwin, Shady Camp is one of the most popular fishing spots in the Northern Territory. This place is famous amongst anglers for its abundance of barramundi during their annual migration from March to May.
Shady Camp lies on the Mary River floodplains near Kakadu National Park's border and has two sections – Lower Shady Camp and Upper Shady Camp. The upper section is perfect for fly-fishing enthusiasts as it has plenty of clear water with fast-flowing streams where Saratoga and Sooty Grunter can be caught.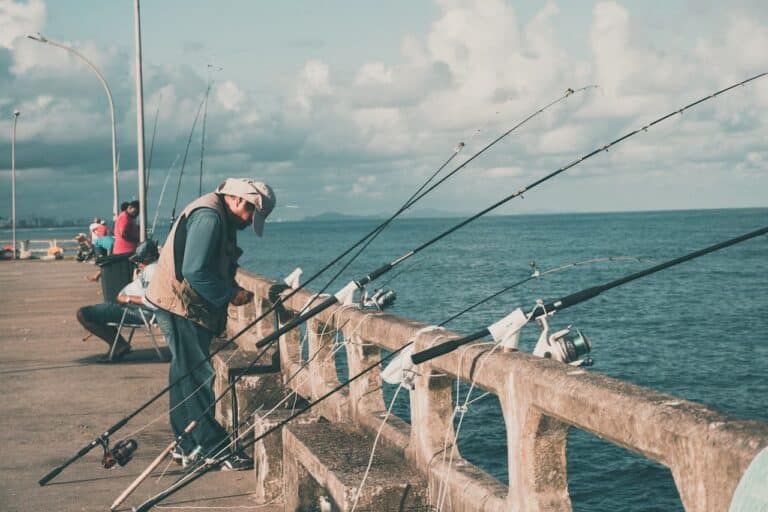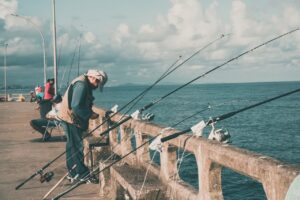 The Lower Shady Camp opens up to Sampan Creek, leading out to Tommycut Creek towards Port Keats before draining into Van Diemen Gulf through Truant Island. Here fishers can catch Mangrove Jacks, Flathead, or even Threadfin Salmon. 
With ample amounts of shade trees that provide a relaxing atmosphere for anglers next to large stretches of shallow sand banks at low tide make, fishing at lower shady camps is enjoyable.
There are also many facilities available at Shady Camp, like toilets, picnic tables where you can cook what you have caught on BBQ hotplates provided or just set down your gear while waiting comfortably by the carpark behind Boundary Bend Boat ramp now that it has undergone major remodeling, providing suitable access for everyone.
Corroboree Billabong
If you're a fan of fishing in freshwater settings, then Corroboree Billabong is a great spot to explore. Located around 90 km east of Darwin near the Mary River National Park, this billabong is renowned for its barramundi fishing.
Corroboree Billabong spans over 20km and connects to the wetlands of the greater Mary River system. Its floodplains are home to many species of fish, but Barramundi and Saratoga are the most sought-after ones because they grow quite large in these aquatic settings.
Facilities at this location include boat ramps, additional activities like cruises alongside bushwalking tracks and bird-watching opportunities, and picnic tables with several well-maintained BBQ facilities available.
Vernon Islands
Vernon Island Marine Park is located just off the coast of Darwin and is an unspoiled jewel that's ideal for catching reef fish. There are many little pockets where you can fish for Spanner crabs or prawns as well.
This location includes mudflats with tide pools created by tidal forces, which can catch quality mud crabs during their migration period between February-May. 
This region's clear waters host shoals of pelagic fishes such as Mackerel or Giant Trevally that make it thrilling to try one's hand using poppers or stick-baits, making this a sought-after target amongst lure-fishers.
Finnis River
Finnis River is located southeast of Darwin City, between Batchelor Township and Adelaide River Township. 
Here anglers will discover an extensive variety of species while enjoying some calm moments from life's hustle & bustle.
A wonderful aspect of Finnis River is that people do not need boats to catch Barramundis or Threadfin Salmon as this river has some great spots along its bank where these fishes regularly come through due to strong currents drifting food with their path. 
Additionally, gill nets and crab pots can also be used at Finnis River, which proves useful for catching quality Barra or big crabs.
Darwin Harbour
Darwin Harbour holds vast potential as it shelters a unique mix of tropical marine wildlife amidst rich mangroves, coral reefs, and shell grit beaches, providing solace from the city. Here you may catch varying types of fish like Spanish Mackerel, Queenfish & Giant Trevally.
Fishing in Darwin Harbour requires off-terrain boats as there are so many bays, creeks, and channels to explore. During high tide, you can aim for red Snappers or Emperor fishes near the low-lying rocks, offshore wrecks & other deepwater seamounts – while on incoming tides, the flat banks around Elizabeth River may be good for Threadfin salmon.
This location is suitable year-round because of the diversity of species that call Darwin Harbor home. It also provides excellent spots for light fishing, like catching Squid or Herring.
Bynoe Harbour
Around 100km southeast of Darwin city, Bynoe Harbour is a remote location where anglers can catch Barramundi amongst other fish species along picturesque coastlines with small beaches for relaxation too.
There are plenty of spots for beaching vessels to set up camp, so bringing a boat is highly recommended when visiting Bynoe Harbour as it offers great opportunities throughout all seasons, given its well-protected area with so many creeks to explore in search of prized catches.
Dundee
Dundee had gained popularity over recent years due to its established lodges, but not before it was once a quiet seaside village better known as Fog Bay.
Here fishing enthusiasts will enjoy family-friendly boat ramps providing access from the shoreline into coastal waters teaming with Spanish Mackerel and Blue Salmon or big-game targets, including Marlin or Sailfish. These waters are also fished during the barramundi season (February-November).
With crab pots available here, you might just reel in some decent size Mud Crabs as oversized Prawns – make sure you have enough bait when heading to Dundee!
Daly River
Located south-southwest of Katherine region, the Daly River boasts some impressive targets, such as Barra weighing around 20kg. 
In summer months, water clarity is quite low, making lures very handy rather than live baits, though; fishing rod holder setups mounted onto boats' ground-laid anchor lines are convenient during Barra fishing sessions.
Anglers will also encounter other species like Threadfin Salmon and Mangrove Jack along the banks, while Soft-Shell mud crabs can be picked up during low tides.
Leaders Creek
Fishing in Leaders Creek provides numerous chances to collect prized catches such as Spanish Mackerel, Barramundi, Queenfish & many more through saltwater estuary or deep offshore ledges.
Skilled anglers can reel in these game fish using baited hooks with live mullets or pilchards for success a lot of times. During dry seasons crocodiles may inhabit this region, so it is essential to take all necessary precautions while fishing in the creek.
Leaders Creek provides good natural shelter for boats, whether accessing shores along mangrove-lined channels or soft-shell mud crabbing – all providing a pleasant experience for visitors seeking fishing adventures.
Things You Must Know Before Fishing in Northern Territory
Fishing is an excellent way to unwind and explore the natural beauty around you. It is a popular activity worldwide that caters to both beginner and expert anglers. 
However, there are some essential things aspiring fishermen must know before hitting the waters. Here are eight vital aspects that prospective anglers should keep in mind.
Choose the Right Equipment
Picking the right equipment according to where you wish to fish does matter tremendously, but before anything else, it's important to consider the size & weight of your gear, given the different kinds of fish species available while fishing.
There are countless types of rods, reels, fishing lines, lures, and crimps available to choose from – all having different functions or best-suited bait presentations for specific locations or species habits.  
Having quality gear suitable for most weather conditions is of paramount importance since this may determine if days' catch ends up wasted due to bad hooks & line slippage on slippery barramundi skin.
Proper Fishing License
Fishing without proper permission can result in hefty fines or imprisonment in many places – so obtaining a valid license must be considered a mandatory protocol prior to starting your trip.
Different regions have varying requirements depending on the age range or location decided upon by each community council/agency, which entails processing applications with respective fees.
Being Aware of Weather Forecasts
It is crucial that one checks weather forecasts before planning a day out fishing from shorelines or on watercraft like boats/kayaks etc.
Sudden gusts caused by storms might create risky waves endangering inexperienced fishers/vessels and causing mishaps; foggy nights/mornings also hamper visibility & making it harder to locate prey rounds; sometimes high tides may affect riverbanks dangerously precariously along sharp bends too.
Learning About Your Prey
Before heading out into the waterways, research what species thrive in each area and learn their patterns through feeding cycles changing during seasons, breeding and migratory patterns, habitat preferences, etc. 
Studying the habits and behaviors of different fishes would help you understand what kind of bait or lure to use and the best time of day to try a catch, either using soft plastics or hard body lures suitable for each species targeted too.
Safety Considerations
Safety should always be a priority when going out fishing, particularly when fishing on watercraft. 
Always wear safety gear, including life jackets that fit correctly and ensure any hooks used are tied up securely to reduce the likelihood of accidents related to getting snagged in clothing or skin injuries, especially when releasing catches while handling them.
Conclusion
Northern Territory is indeed a fishing paradise with numerous hotspots available throughout the region. 
From freshwater billabongs and creeks teeming with Barramundi to offshore escapees like Spanish Mackerel, these top nine locations provide both experienced and novice anglers plenty of opportunities to explore. 
Whether using live bait or artificial lures, patience on local trips often rewards anglers with great catches during their stay in this picturesque Australian state.